Heat Trace Control Panels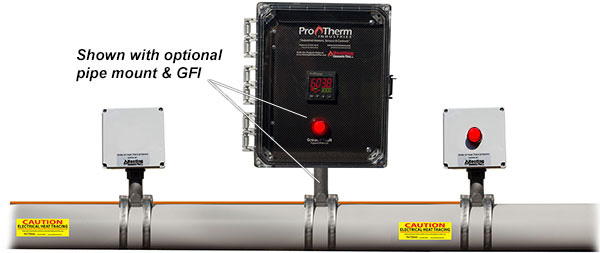 ProTherm ProTrace SZ Series - Intelligent, Single Zone, Heat Trace Cable Control Panels
Available with line sensing or ambient sensing thermostat options.
ProTherm SZ Series Heat Trace Panels feature a digital display process controller designed for easy programming. Our control panels feature a low temperature alarm and a sensors break alarm.
LED lights provide indication of power to the unit, heater power on and alarm status. The alarm consists of a dry contact that closes in the event of an alarm, and are wired to a terminal strip for local or remote use.
The processes controller employs a soft start feature that provides a percentage of power over time. This feature eliminates the inherent self-regulating cable in-rush current, resulting in less nuisance tripping at cold temperatures.
The SZ Series panels can also be used with constant wattage heat trace cable and are available with an optional pipe mount or wall mount.