Order configured sizes below, or we can custom design a flanged element for your boiler or tank.
Flanged immersion heaters are available in a variety of flange sizes and materials. Flange heaters are constructed by brazing or welding elements into an ANSI or plate flange. They are intended for direct immersion into fluids and gases. The heater is to be installed via a flanged port in the tank or vessel. The heating elements are offered in a number of materials suited to a variety of fluid heating applications. Terminal housings are available for indoor, outdoor (weatherproof NEMA 4) and hazardous (NEMA 7) environments.
Many options are available including thermostats, high limit and process thermocouples or RTD sensors. Since we are a made to order company, we can offer a large selection of sizes and configurations which are not listed on our website. Please contact us for assistance with your application.
Incoloy Sheath Elements (Standard)
Incoloy Thermowell
Suitable for heating process water, solution water, mildly corrosive solutions & demineralized
For heavily corrosive applications, please call. Other sheath material available; titanium, inconel, monel and etc.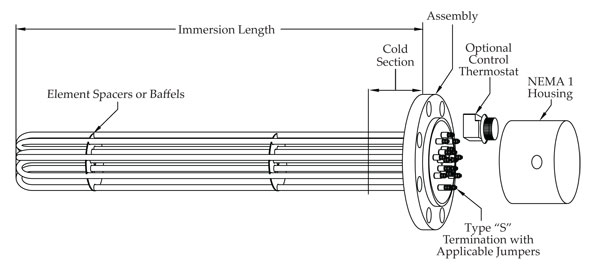 If you don't see an element to fit your application, or you need a custom flange heater designed, please call us at 615-834-4044.